Been getting quite the cold snap lately, lows of -7C which is rare for here.
No precip in about 10 days but with the cold we're getting a bit of horfrost some nights which can leave a track when a cat passes over the 2-3' of rock solid snow we have in places.
The track wasnt very clear, evident in about 1/4" of the frost in places and just disturbances in other spots.
It had some of those ice crystals in it but I worked it for about 3-4 kms and cut him 4 different times, he was moving a lot, hunting elk as he went.
At one point I saw where he sprung on a herd of elk, evident by the blood in the cow elk tracks and other tracks as they ran away.
He then dropped down to the river, circled back around and straight up into the bluffs on a S/E heli slash.
It is there we let 2 dogs go, my Harlo and my buddys Maple.
The ice crystals are weird, they are almost floating so I was unsure of how much scent was there and if I had the right end of the track let alone a track from that night.
The dogs took it up to the rocks and split up
Harlo was working the rim rock ledge in the sun and opening periodically so I was sure he had it, although the other one was barking too and going straight up.
After some time and a couple kms along basically lined out with a good sense of direction I was confident he had it and I sent Daisey up to help but she couldnt get up where I sent her and so went further on up the trail and found a spot she could make it up to him, about 2,500' above the river I was standing on.
THey both covered a good 2 kms in the time it took to go back to pick up my buddy on the quad and grab the other dog to throw in the box with the other 2, headed back to my dogs and they were down on the flats and had swam one river and were going nuts on the other side.
I figured they'd tree on the flats but they must have made a loss as they came to a river confluence and got hung up for a bit but after a short delay, swam again and carried on.
The cat lined out and crossed a real wide valley (about another 2kms) and went straight up the other mountain into some more heli slashes.
We just kinda looked at each other in disbelief, why on earth would he go up there.
It took us about an hour to get them on the gps again and they were at the base of the rocks about 1500' above us and across another creek.
The plan was for Jamie to head up and make sure they in fact had it and werent bluffed and I would try and go around the frozen lake and get closer and see if we could get a couple fresh dogs in if they werent treed.
In this time they left and went on their back track about 500 yards did a big circle and came back. I think they had it treed but thought they were ledged, who knows but the second time they stuck solid.
Jamie made it up there and radio'd "cat in the tree"
I couldnt get any closer as the frozen snow we were on was 4.5' deep and the quad couldnt get through the dry spots and up the opposing banks with the weight of the other dogs on the back.
It took him about an hour to get up to them but I covered it in about 20mins lol
The way he was bunched up on the branch made it hard to judge how big he was, he doesnt have the wrinkled face of a classic mature tom but having the whole hunt from start to finish be more or less my hunt, from cutting it, freshening it up and having just my dogs I started out with, do the job alone again, I decided to punch my first tag.
I shot him straight on, he froze up and busted a big branch coming down, right then when we saw the girth on him we knew he was bigger than originally thought.
I wasnt going to shoot him initially, I was looking for that squished fat face of an old tom to be my first but whatever.
The cat slid over 1000' down the hill almost to the heli slash.
IT was a fairly easy drag out and just one creek to cross.
I finally got to break the seal on the fireball I had aging in my truck for 3 years lol, saved for a sip just for this occassion, the first tom I decide to take.
He's a solid tom for around here.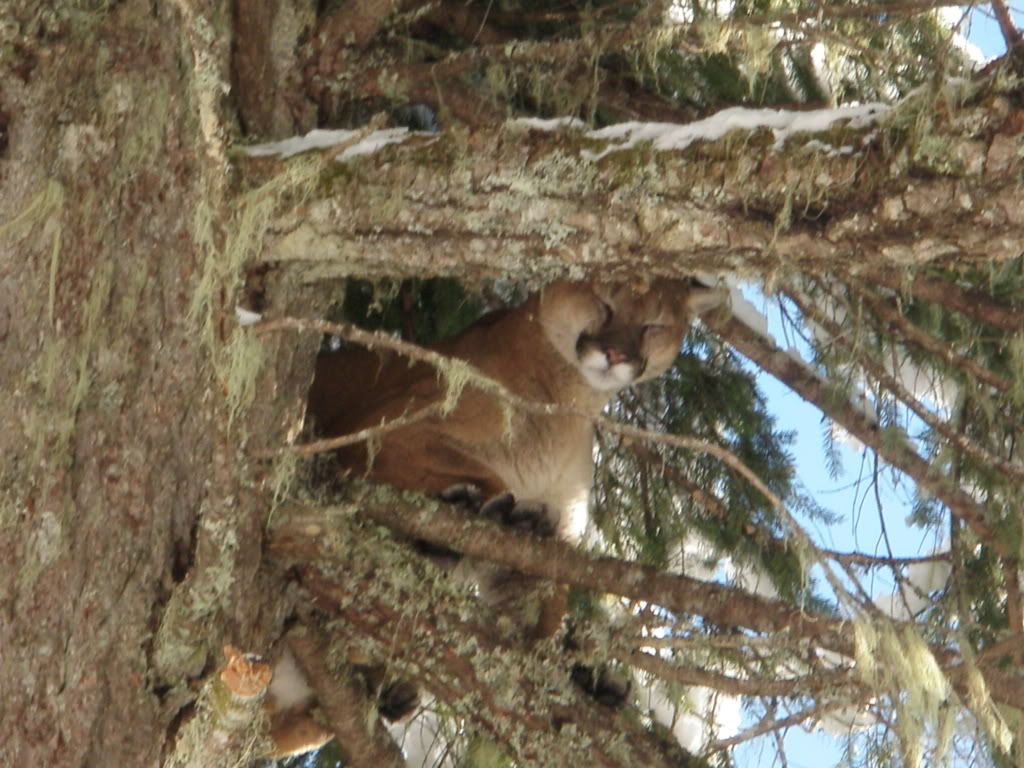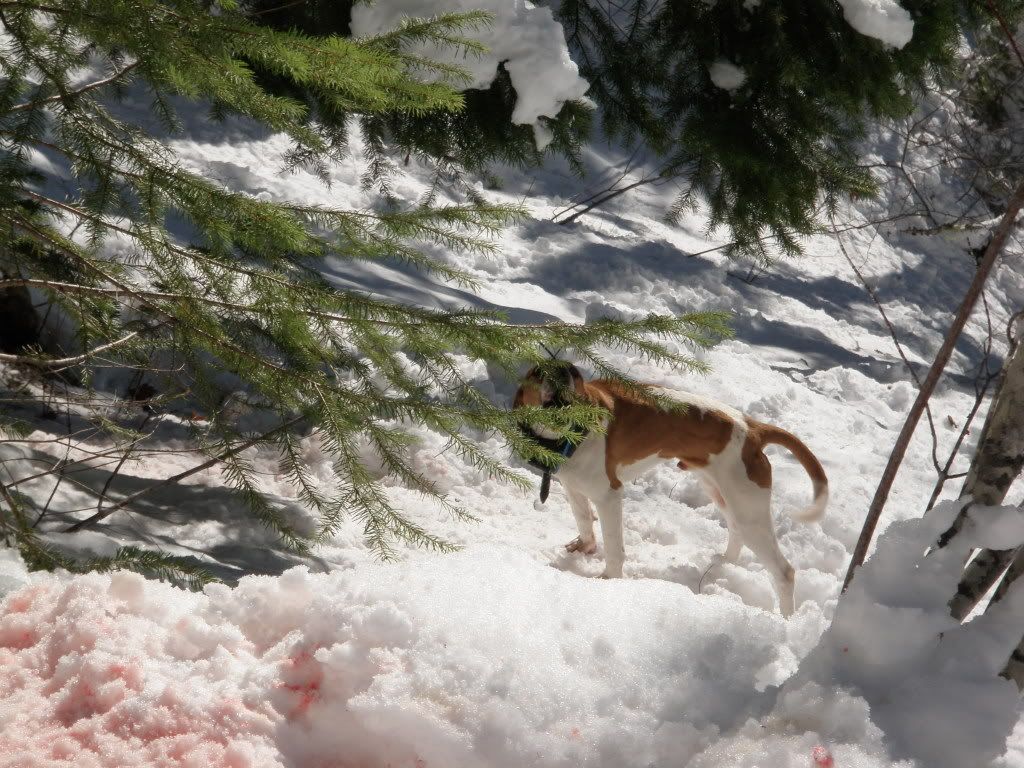 Bit of a tilt somewhere along the way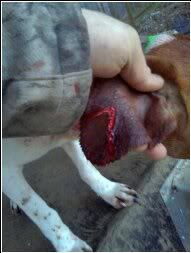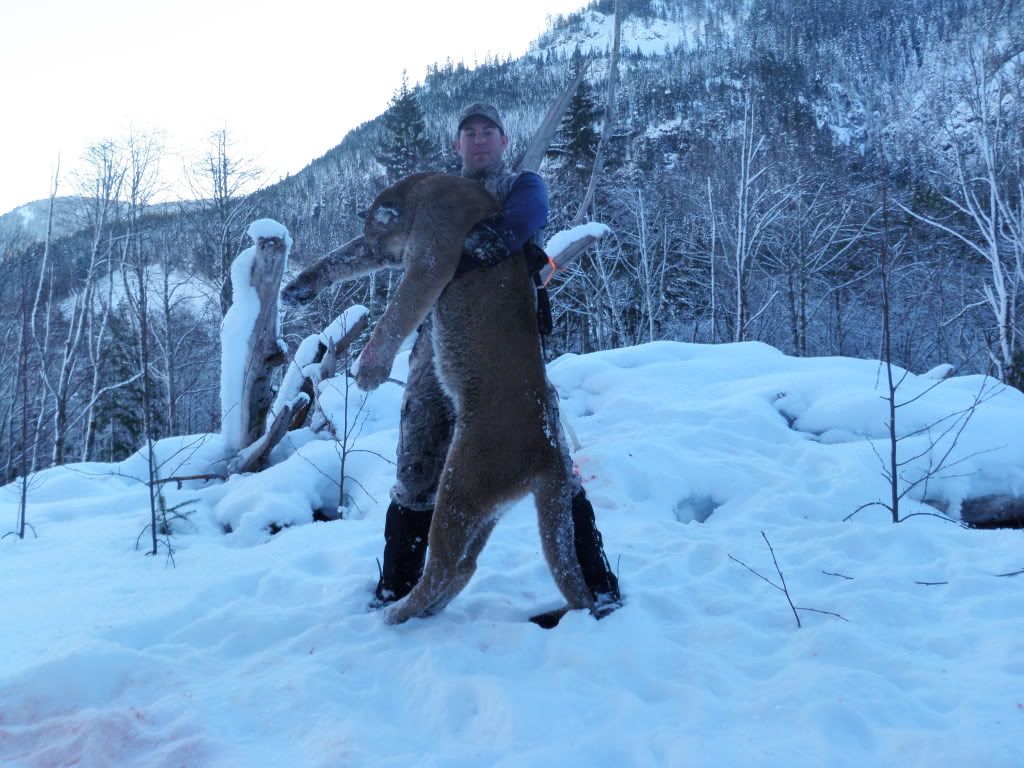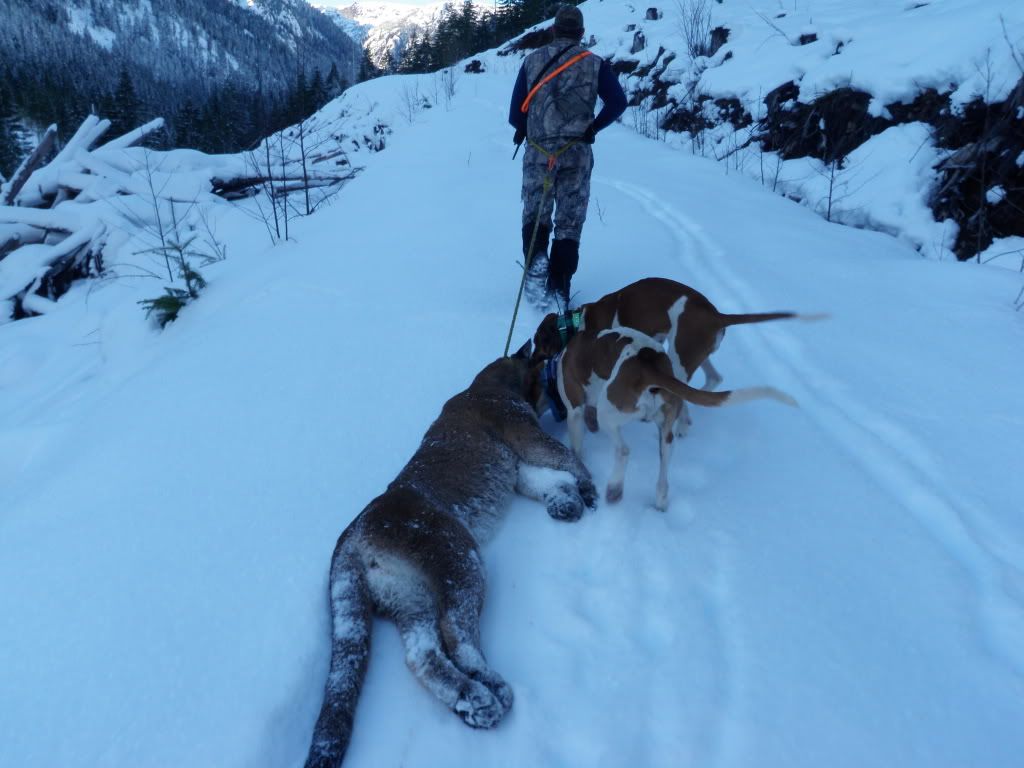 Video clip
http://s1024.photobucket.com/albums/y30 ... 020011.mp4